Plastic precision parts are widely used in industry, agriculture, construction, transportation, national defense and military industry, aerospace and other fields due to their cheap, durable and light weight characteristics. At the same time plastic machining can create parts with complex shapes without missing a single detail.
In this guide, I will provide an overview of material characteristics + advantages, disadvantages and common uses to help you use suitable plastic materials to meet your project needs.
ABS Plastic
Overview
ABS is a round general-purpose plastic. It provides high impact strength, toughness and electrical resistance at a low price. It is also easy to paint because it is easy to be painted, glued or welded together. If you leave it for machining, although it may be somewhat shiny, depending on how it is machined, it will still have a matte effect.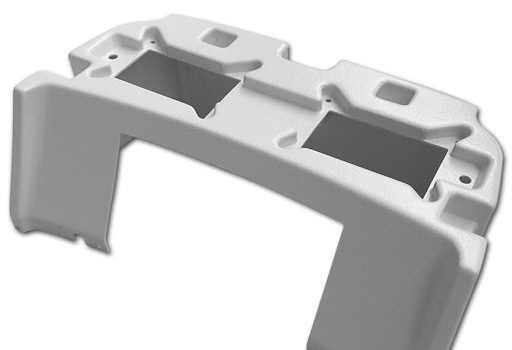 Benefit
For general-purpose prototypes, pre-formed prototypes, parts that will be impacted and require toughness, or parts that require low-cost parts, ABS is an excellent choice.
Disadvantage
ABS does not have good abrasion resistance or chemical resistance and will melt in acetone. It is also not a particularly strong plastic. In addition, due to stricter environmental regulations on the West Coast of the United States, bulk ABS is only produced in the Midwest and East Coast. This means that stocks that are thicker than 2 inches usually take a week to ship, resulting in longer production times for large ABS parts.
Applications
The most common application of ABS is injection molding, which is used to make electronic product housings, household appliances, and even iconic Lego bricks. For CNC machining, it is very suitable for pre-forming and target prototyping.
Nylon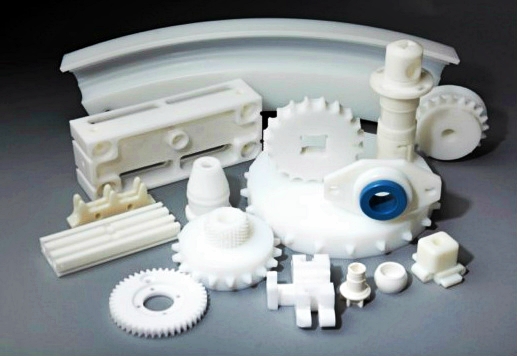 Overview
Nylon is a strong and durable plastic, suitable for many purposes. Because it has tensile strength and durability. However, its disadvantage is that it absorbs moisture, which causes it to swell.
Benefit
Nylon has high strength and rigidity, can maintain good electrical insulation in a wide temperature range, as well as good chemical resistance and abrasion resistance. Nylon is ideal for applications that require low-cost, robust parts.
Disadvantage
Nylon will absorb moisture, causing it to expand and lose some dimensional accuracy. If a large amount of asymmetric material is removed due to the inherent internal stress of the material during processing, it will also warp.
Applications
Nylon is most commonly found in medical equipment, circuit board mounting hardware, automotive engine compartment components, and zippers. In many of these applications, it is used as an economical substitute for metals.
Nylon performs well as a material for customized bearings and insulators. In addition, nylon has very low friction properties, which makes it very easy to grind. The automotive industry relies on this key material to make various parts from door handles to radiator grilles.
Acrylic
Overview
Acrylic is called plexiglass or fluorite. It is tough, has good impact strength and scratch resistance, and can be easily bonded with acrylic cement.
Benefit
Rugged and scratch-resistant, it is ideal for any application that requires optical transparency or translucency, or as an alternative to non-durable but inexpensive polycarbonate.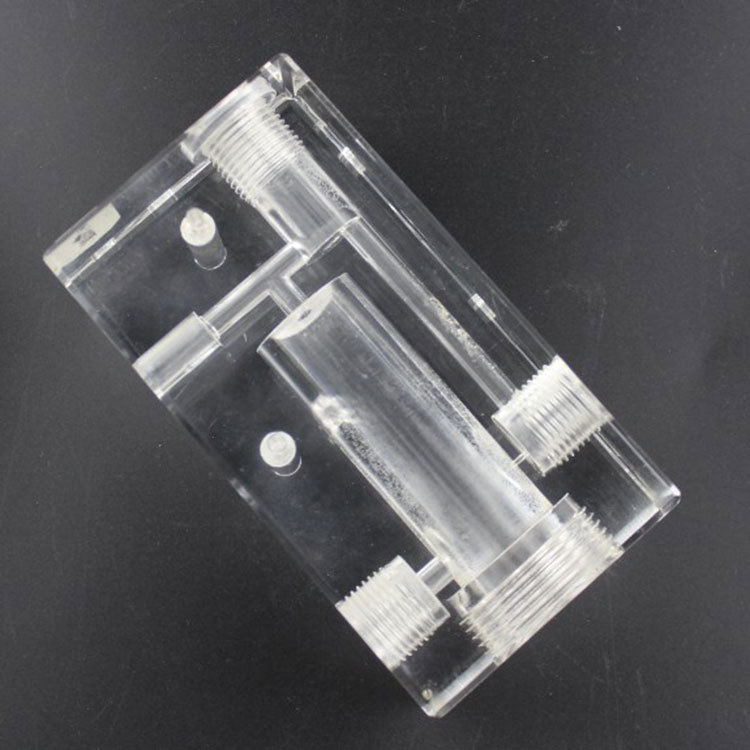 Disadvantage
However, acrylic is a fragile plastic and will fail due to cracking or shattering rather than stretching. Any machined surface on an acrylic board loses transparency and takes on a matte, translucent appearance. Therefore, it is usually best to pay attention to whether the original thickness of acrylic parts should be retained to maintain transparency. If the processed surface needs to be transparent, it can be polished as an additional post-processing step.
Applications
The processed acrylic is transparent and is most commonly used as a lightweight alternative to glass or light pipes.
Delrin
Overview
Delrin is a special brand of acetal homopolymer (also known as POM). It has a smooth, low-friction surface, excellent dimensional stability and high rigidity.
Benefit
Delrin is highly stable and relatively simple to process within tight tolerances, which makes it ideal for the production of very hard, low-friction parts.
Disadvantage
The disadvantage of Delrin's smooth and wear-resistant surface is that it is difficult to bond. The material also has internal stresses, making it prone to warping in areas where it is thinner or where a lot of asymmetric material is removed.
Applications
Delrin is usually used for gears, bearings, bushings and fasteners, or to make jigs and fixtures for assembly.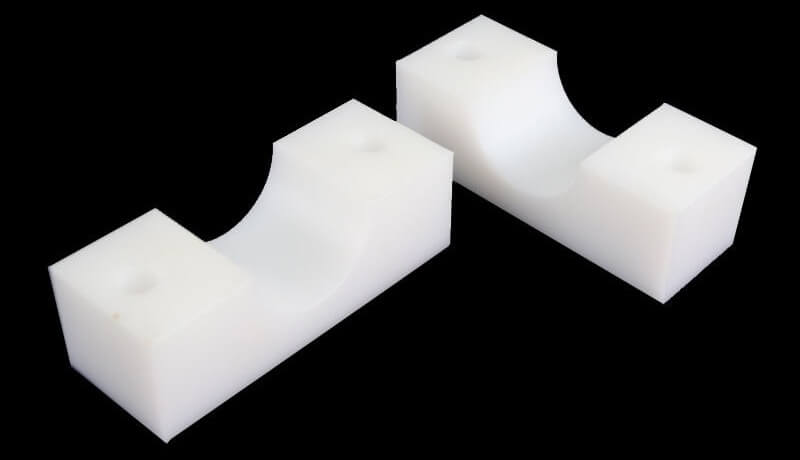 HDPE
Overview
HDPE stands for high-density polyethylene, a general-purpose thermoplastic polymer with very high tensile strength, very close to concrete, and high impact resistance.
Benefit
Despite its name, HDPE is the smallest density plastic we
offer. It also has excellent chemical resistance, electrical insulation and a smooth surface. Due to its chemical resistance and slippery properties, it is very suitable for the manufacture of plugs and seals, while also being an ideal choice for applications that are sensitive to weight or electricity.
Disadvantage
The main disadvantage of HDPE is its low strength, especially in terms of stretching and bending. It is difficult to machine, so high-speed CNC milling is recommended.
Applications
HDPE is also a very popular material for commercial plastic pipes. Since it is usually provided in a variety of preparation forms, it is an ideal material for subtractive CNC machining.
Polycarbonite
Overview
Polycarbonate is a thermoplastic polymer that contains carbonate groups in its chemical structure. Polycarbonate is the most durable form of plastic during machining
Benefit
It has extremely high impact resistance and rigidity, and maintains function in a wide temperature range. It is also optically transparent, but it can be dyed black if it needs to be opaque. Polycarbonate is best suited for applications that require very tough or very strong plastics or require optical transparency. Therefore, polycarbonate is one of the most commonly used plastics with the highest recycling rate.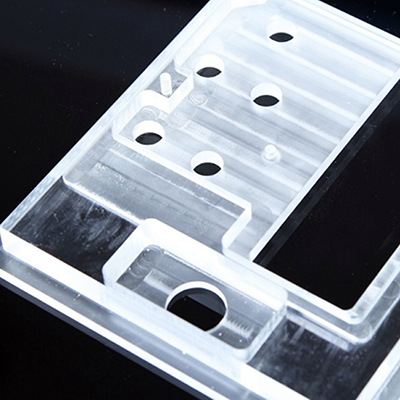 Disadvantage
Pure polycarbonate does not have good abrasion resistance and is easily scratched. If necessary, anti-scratch coating and vapor polishing can be added in subsequent processing steps to improve wear resistance or optical clarity. It is also not easy to obtain parts thicker than two inches, which limits the size of parts that can be made of polycarbonate.
Applications
The durability and transparency of polycarbonate means that it can be used to make optical discs, safety glass, light pipes, and even bulletproof glass.
PVC
A wide range of industries rely on PVC plastics for custom processing of plastic parts. PVC is a strong, durable, lightweight material that can resist weathering, decay, corrosion, impact and abrasion. PVC has a long service life, so it is very suitable for construction and outdoor applications.
Teflon
Polytetrafluoroethylene (PTFE) is the most commonly used name for Dupont's Teflon®, which has the characteristics of high temperature resistance, resistance to most chemicals and good electrical insulation properties. Teflon is very dense, but also very soft, so it requires very sharp and precise tools to process it properly.
Glass Fiber Reinforced Plastic
Glass fiber reinforced plastic (FRP) is a composite material made of a polymer matrix reinforced with glass fibers. Due to the bond woven from fine glass fibers, the material can provide a wide range of strength and flexibility. FRP is easy to form and light in weight, with a high strength-to-weight ratio.