High-speed machining (HSM or HSC) is an advanced machining technology that was rapidly developed and applied in the 1990s. Usually refers to milling processing at high spindle speed (10,000-100,000r/min) and high feed speed (40m-180m/min). Today we will introduce in detail the following contents of high-speed machining:
What is high-speed machining
The history of high-speed machining
Traditional processing and high-speed processing
Features of high-speed machining
Factors to consider for high-speed machining
Technology for high-speed machining
Advantages of high-speed machining
High-speed machining application field
What Is High-Speed Machining
High-speed machining (HSM or HSC) is an advanced machining technology that was rapidly developed and applied in the 1990s. Usually refers to milling processing at high spindle speed (10,000-100,000r/min) and high feed speed (40m-180m/min). High-speed machining is a brisk cutting process that can achieve high metal removal rate (MRR), high feed rate and spindle speed. It combines fast motion and well-planned applications to achieve precise parts and best results.
The History Of High-Speed Machining
The first attempt at high-speed machining occurred in the early 1920s. About 10 years later, Carl Solomon proposed his definition of high-speed machining: "At a specific cutting speed that is 5 to 10 times higher than conventional machining, the chip evacuation temperature of the cutting edge will begin to drop." His now famous chart has It became synonymous with learning high-speed machining and explained the so-called "Solomon curve."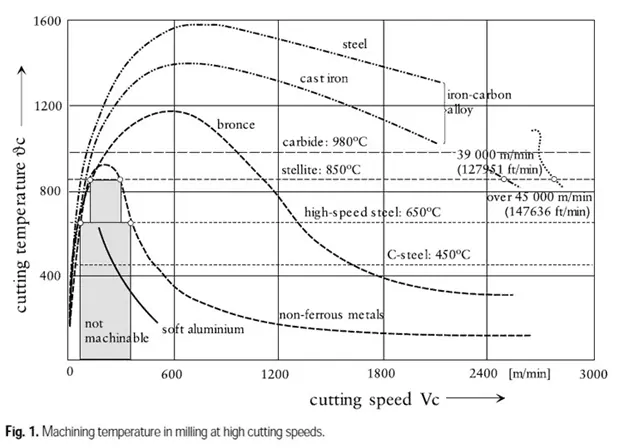 It was not until the late 1950s that HSM research began to take off. In the 1980s, Lockheed was an early adopter of HSM, followed by other aerospace manufacturing companies. It is at this point that high-speed machining becomes the viable antithesis of traditional machining.
Today, high-speed machining is becoming more and more popular, and it is increasingly seen in the machine shop.
Traditional Machining And High-Speed Machining
Conventional processing is very different from HSM in many ways. When using traditional machining technology, the contact time between the tool and the workpiece is much longer than when using HSM. Conventional machining also involves greater cutting forces.
Compared with high-speed machining, traditional machining usually leads to reduced workpiece accuracy and poor surface finish. Another major difference related to high-speed machining is that the material removal rate is much higher.
Features Of High-Speed Machining
High metal removal rate (MRR) and minimized processing time
High productivity and low cost
Excellent dimensional accuracy and accuracy
Machining capabilities of high-precision 3D complex parts
Eliminate unnecessary steps such as polishing and assembly
High-speed machining can solve the processing problems of new materials in practical applications, adapt to the processing of three-dimensional curved surfaces with high surface quality, high precision and complex shapes, reduce and avoid low-efficiency EDM, solve the processing problems of thin-walled parts, and CNC high-speed composite Processing can also reduce the number of handling and clamping, and avoid processing errors caused by repeated positioning, which not only improves processing quality, but also improves processing efficiency.
Factors to consider for high-speed machining
For high-speed machining and CNC services, some of the main factors you must consider are:
Tool selection and balance
Chip thinning
Machine requirements
Workpiece and tool rigidity
Materials and processing strategies
Cam programming
Tool selection
Technology For High-Speed Machining
High-speed machining is a complex process of manufacturing parts, and you must know how to perform HSM. If an inexperienced person uses the correct tool to perform the process, it will not succeed.
HSM is a mixture of technologies used in various applications. These technology collections are user-friendly and very useful for operating any operation.
Some of the best techniques for high-speed machining are:
1: Plunge Roughing
It is a manual CAM tool path and program. It can be said that it is the secret weapon to save Bacon. The two main characteristics of cut-in roughing are:
By changing the force from the XY plane to the axial Z up and down forces, you can achieve a more rigid cut.
Compared with an end mill, its twist drill can remove more material.
When side grooves cause more tool deflection, plunge milling roughing or milling is best for deep grooves. Plunge milling allows you to perform rough machining on old machine tools in the workshop.
2: Trochoidal Machining / Milling
This CNC milling method is suitable for milling deep cavities, closed cavities and grooves. Cycloidal machining is an excellent solution for grooving special hard materials such as titanium and inconel.
The main advantages of cycloid processing are:
Reduce cycle time
Ability to execute multi-slot tools
Can remove more material
Improve tool life
Chip thinning effect
Reduce the number of axial passes
High speed capability
Maintain continuous feed rate
3: Side Steps
These connections are very effective for transitions between adjacent tool paths during high feed rates. It tends to produce sharp strides at the end of the pass. Simple circular movements will be sharper at high feeds. In the past ten years, parallel scan line surface processing has been used to finish multi-surface models.
The appropriate solution for the medium feed rate is to use a simple cycle tool path as an alternative to sharp turns between scan passes.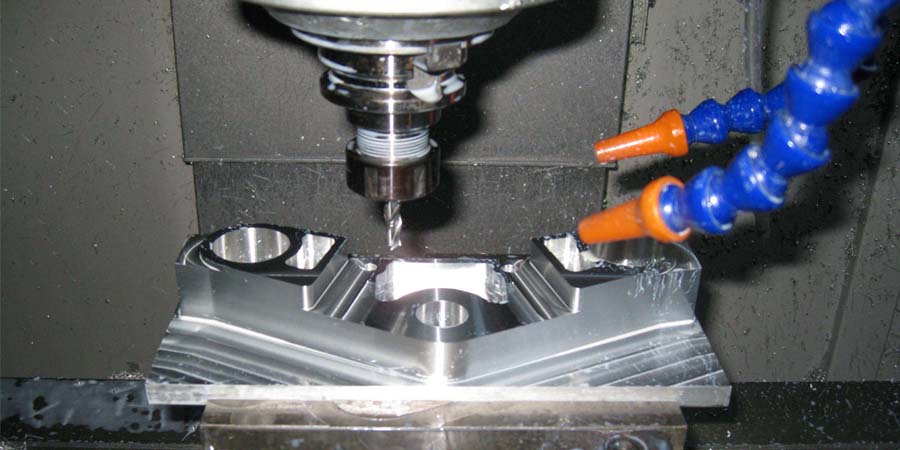 Advantages Of High-Speed Machining
High-speed machining generally uses high milling speeds and fast multiple passes to improve efficiency, small diameter tools, appropriate feeds, and small radial and axial cutting depths, that is, the cutting volume. As the milling speed increases, the processing time is greatly shortened, and the cutting force is reduced, and the vibration is small, especially the radial cutting force is greatly reduced, and the deformation of the part is small. Because a large amount of cutting heat is taken away by the chips during cutting, the surface of the workpiece The temperature is low. Due to the above-mentioned characteristics of high-speed milling, high-speed machining has outstanding advantages over conventional machining: high productivity, stable work, high surface quality, no other surface treatment procedures are required, and it is conducive to processing thin-walled parts and high strength, high hardness and brittleness Materials, can shorten the delivery time, reduce the number of equipment and workshop area, and reduce the number of workers. Despite the initial increase in equipment investment costs, the overall benefits of the high-speed milling process are still significantly improved.
High-Speed Machining Application Field
High-speed machining can be used to directly produce cutting tools for prototypes, small batch parts, and engine parts manufacturing. The main goal of HSM is to reduce production costs with higher productivity.
1: Aviation Industry
The requirements of the aviation industry are high durability and reliability, and many restrictions are involved in the process of aircraft design, manufacture and design. Aviation is one of the most complex and complex technologies, and HSM technology is mainly used in the aviation industry. In order to implement the latest processes and technologies, the use of high-strength aluminum alloys is also increasing. The main reasons for choosing HSM for aviation and aircraft design are:
Depth of cutting layer
Fast cutting speed, high processing efficiency
Feed speed and precision mechanical surface
Selection of cutting parameters
These factors make HSM a better choice for the aviation industry than other milling technologies and methods.
2: Medical Industry
Medical equipment, tools, and parts require higher precision and accuracy, and you can achieve this high precision through high-speed CNC machining. It can be used for orthopedic implants, joint implants, molds or surgical instruments. Material requirements may vary based on high quality standards.
Many CNC service provider companies serve the medical industry and have acquired a high level of depth and knowledge in high-speed CNC machining and high-speed machining feed.
3: High-Speed Processing In The Automotive Industry
High-speed machining provides a wide range of products and uses for various applications. In recent years, the automotive industry has increased high-speed aluminum processing to reduce weight and cost.
It is mainly used for small batch production, complex parts and mold manufacturing. The automotive industry requires high-speed milling and mass production of parts, and HSM is a good choice.
Auto parts are manufactured by high-speed machining, and many companies that provide CNC services can be a good choice for your auto parts manufacturing.